Within this article:
.
Definition of a preferred supplier
A preferred supplier is one whith whom you have already worked with previously, it is very likely that you have already set up with them, agreements or reference contracts.
As such, it is likely that during your Onboarding experience you have already invited a list of suppliers to join you at LittleBig, as a preferred supplier.
As an alternative, you always have the option of contacting your Customer Success Manager at any other point, to add new preferred suppliers to your list.

Company Administrators, are the only ones able to set up and create lists of referenced suppliers, linking them to specific entities, to enable your collaborators to use the lists at the time of creating new Requests for Proposals.
One way to use these preferred suppliers lists is to categorise your suppliers by rank/activity industry/location, etc.
.
How to set up a list of preferred suppliers
At the main menu, please click on the tab "Entities", then on the sub-menu option "Preferred supplier management"
Within the settings page that will come up, click on the menu option located on the top right corner of the section titled "New preferred suppliers list"
Fill in the various elements within the creation module as described below:
Name of the list:

Add a distinctive name for your list

Preferred suppliers:

Select all the firms you wish to add to your list of preferred suppliers

List of entities:

Add all the entities to which you wish to give access, to the list of preferred suppliers
Once your list has been validated, you will be able to find it in the tab Entities -> "Preferred supplier management", from this page you will also be able to edit your lists by:
Adding suppliers/entities
Removing suppliers/entities
.
Where to find the list of suppliers
Your operational staff, assigned to the entities linked to these lists, will be able to access them upon initiating the creation of a new Request for Proposals, specifically on the last stage of the process for the module. (stage 8 - Publish).
Once selected, the operationnal staff will be able to modify the components of the list by clicking on the pencil button, this will display the full list of suppliers that have been added to the specific list selected.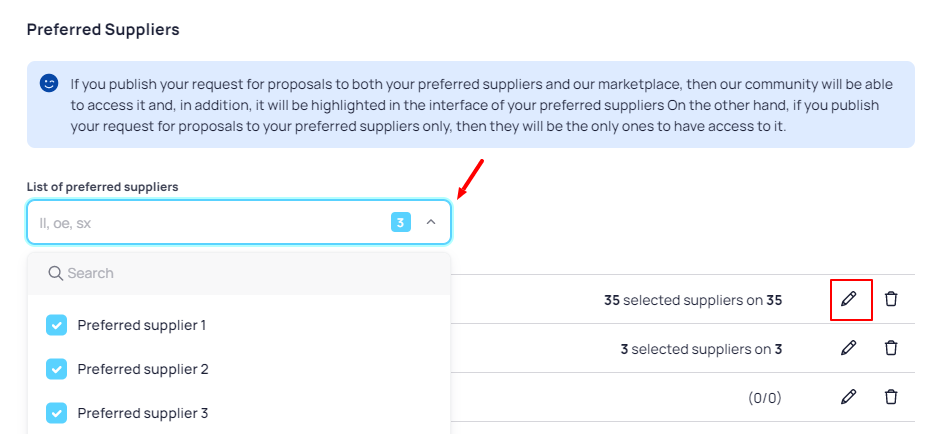 From this part, they will be able to deselect the suppliers within the list, to whom they do not wish to send the request for proposals.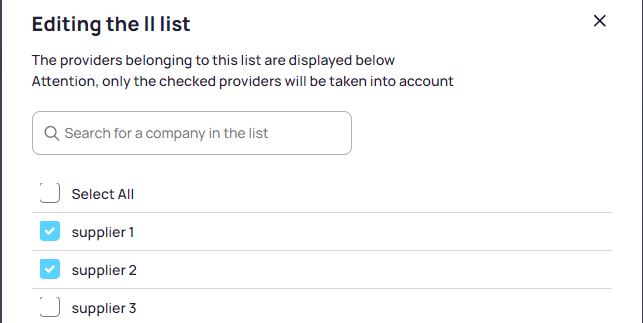 Once complete and published, note that only the selected suppliers will be able to view and interact with the Request for Proposals.
| | |
| --- | --- |
| | If the supplier is not found within a list attached to an entity, and they win the RFP, the service will be intermediated by LittleBig Connection (Connect Offer) |